Here are some experimental classes to produce procedural (computed) tiled image layers. The test layer will create elevation colored tiles on the fly: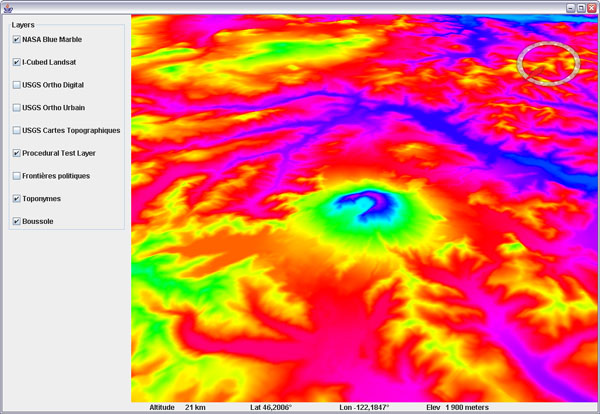 Download
ProceduralTiledImageLayer.java
(updated Sept 2009) and
ProceduralTestLayer.java
(updated feb. 24). Remove the .txt extension and add to your SDK layers package.
To use the test layer, add an instance to your layer list and set its wwd reference - setWwd(), otherwise it wont be able to produce the tiles (it needs to query the globe elevations).
A couple things to note: once a tile has been created it will be cached and wont be recomputed. That means that if you change the 'formula' that produced those tiles, you must either direct them to a different cache folder, or clear the previous one.
There are many potential applications for procedural tiles. Just with the elevation data, you can produce a great variety of 'elevation colored' maps, you can compute
shading
, cast shadows or even draw 'line of sight' areas. However, when querying elevations from the globe, you get the 'best available' elevations, meaning that if elevation data has not yet been loaded, the tiles will be produced out of less precise data and would need to be recomputed once better data is available - which it is not doing right now.
Edit feb. 28: to get the best results, i recommend to keep the layer off until you have zoomed onto the area of interest and elevation data has been properly downloaded and then loaded into memory. Tilt the view and look around to force loading on a wider range, then turn on the procedural layer.
Other potential applications include multi resolution rasterized vector data (country borders, roads...). I have to see how this could alleviate some limitations of the actual surface shapes. But that would only work well with static data - not the kind that changes all the time.
See this related
WWJ Forum thread
.